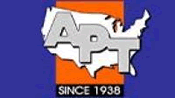 The Model 131 Backfill Tamper is used for soil compaction, temporary filling of holes, asphalt packing, etc. Applications range from foundation and pavement repair to the installation of power or telephone poles. APT offers an optional half-moon shaped pole tamping accessory for compaction around a pole as well as a 3" diameter butt for confined space compaction.
Your BEST price is just a call away!
800-241-9669
Technical Specs
Related Accessories
Safety Gear
Tool Pictures
Parts
Part No.
5214
Bore
1-1/2
Stroke
5-1/2
B.P.M.
670
CFM @ 90 PSI
inlet pressure
38-42
Weight
lbs.
37
Length
Inches
51-7/8
Coming Soon!

Parts for the APT 131 Tamper
There are no additional pictures for this tool.

Parts Manual for the APT 131 Tamper